To add an additional branch or company location in the Seenons app:
Go to 'Account'
Under 'My Organization', click on 'Manage Users and Branches' *
Go to the 'Branches' tab
Click on '+ New branch' at the bottom right
Success? ✅ If you have successfully added a branch, you will see it here:
Go to the overview 'My waste'
Click on the drop-down menu at the top. You will now see all the branches for which you are authorized.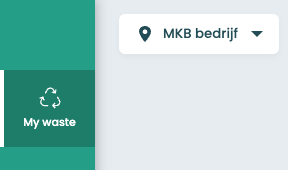 * NB
You will only see the 'Manage Users and Branches' option if you are an Admin.
Don't see the button? Then ask the admin of your Seenons account (e.g. your team lead or manager) to add a branch, or to make you an Admin as well.